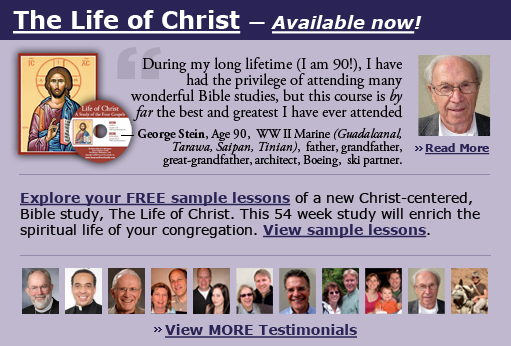 Series C
Jesus' Lament Over Jerusalem : Gospel Analysis
---
Lent 2 Luke 13:31-35
Basic text for the course: SYNOPSIS OF THE FOUR GOSPELS, Kurt Aland, English Edition, P. 190-191.
The setting: Jesus' Journey to Jerusalem in Luke 10-18.
---
#174. Decision To Go To Jerusalem
Matthew 19:1-2, Mark 10:1, Luke 9:51
-Now when Jesus finished these sayings. Matthew closes five sections of his gospel with similar phrases e.g. "and when Jesus finished these sayings."
-When the days/the time drew near/were fulfilled for him to be received up. The NIV translation says, "As the time approached for him to be taken up to heaven, Jesus resolutely set out for Jerusalem." The time was ripe for Jesus to go to Jerusalem. The days were fulfilled. The time was ready. "To be received up" refers to his ascension in Jerusalem.
It is clear that in the Gospel of Matthew, this section is a transitional point in Jesus' life.
Similarly, in Luke's gospel, this is a moment when Jesus begins to move in a new direction: towards Jerusalem.
-He set his face (steadfastly) to go to Jerusalem. Only in Luke, in Luke 9:51. There was a look of resolve and determination in Jesus' face. The Greek language inserts the word "steadfastly." Jesus set his face steadfastly which means being "resolved" to go to Jerusalem.
We find the mention of Jesus traveling to Jerusalem in five places in Luke's narrative: In 9:51; in 9:53; in 13:22; 17:11 and 19:28. Examine each of these passages and underline the phrase, "to Jerusalem." This theme, "to Jerusalem," becomes a motif in Luke's gospel.
It is as if Jesus knew that it was time to begin his trip to Jerusalem and the cross. The cross became symbolic of his life. ""Setting one's face" to do something is an Old Testament way of speaking about resolve (Gen 31:21; Jeremiah 21:10; 44:12). Jesus is determined to accomplish God's will wherever it leads."
http://www.biblegateway.com/cgi-bin/webcommentary?
language=english&version=niv&book=luke&chapter=9#3
The journey from Galilee to Jerusalem was not a "straight line" journey. Sometimes we will find Jesus south near Jerusalem. Most of the time we will find Jesus in vague locations in Samaria. In this travel document, we won't find Jesus in the province of Galilee but in the province of Samaria or near Jerusalem.
There are two major themes:
the growing rift between Jesus and the Jewish leaders;
the call for faithful disciples who will suffer because of their commitment to Christ.
This travel narrative will consume 40% of Luke's story about Jesus.
In this travel section of Luke, we will find a combination of two primary resources: L (uniquely Luke) and Q (Quella.)
-The people would not receive him because his face was set to Jerusalem. (Luke 9:53) Jesus, a Jew, was resolved to go to Jerusalem, the capital city of the Jews. The people of Samaria were deeply prejudiced against the Jews and vice-versa. It offended the Samaritans that Jesus' face was resolved to go to Jerusalem, rather than Mount Gerazim, which, for them, was their holy city. In the minds of the Samaritans, Jesus was heading the wrong direction when he was determined to go to Jerusalem. He should have been resolved to go to Mount Gerazim
---
#212. A Warning Against Herod
Luke 13:31-33
This section is uniquely Luke.
-At that very hour some Pharisees came and said to him, "Get away from here, for Herod wants to kill you." From the very beginning in Jesus' ministry in Galilee, the Pharisees were the ones who were plotting to kill him. But not all of the Pharisees. Here meet some unknown Pharisees who warned Jesus about Herod.
We also know that Luke, the author, was a historian and repeatedly gives us details of the rulers and leaders of the political setting from his day. We recall Luke's detailed historical description in Luke 2 about Caesar Augustus and Quirinius.
We also recall Luke, the historian's, has numerous references to King Herod in his gospel story of Jesus.
Lu 1:5 - In the days of King Herod of Judea, there was a priest named Zechariah, who belonged to the priestly order of Abijah. His wife was a descendant of Aaron, and her name was Elizabeth. (This was Herod the Great who died in the year 4 BCE. One of his sons was also named Herod who became the ruler/tetrarch of Galilee.)

Lu 3:1 - In the fifteenth year of the reign of Emperor Tiberius, when Pontius Pilate was governor of Judea, and Herod was ruler of Galilee, and his brother Philip ruler of the region of Ituraea and Trachonitis, and Lysanias ruler of Abilene,

Lu 3:19 - But Herod the ruler, who had been rebuked by him because of Herodias, his brother's wife, and because of all the evil things that Herod had done,

Lu 8:3 - and Joanna, the wife of Herod's steward Chuza, and Susanna, and many others, who provided for them out of their resources.

Lu 9:7 - Now Herod the ruler heard about all that had taken place, and he was perplexed, because it was said by some that John had been raised from the dead,

Lu 9:9 - Herod said, "John I beheaded; but who is this about whom I hear such things?" And he tried to see him.

Lu 13:31 - At that very hour some Pharisees came and said to him, "Get away from here, for Herod wants to kill you."

Lu 23:7 - And when he learned that he was under Herod's jurisdiction, he sent him off to Herod, who was himself in Jerusalem at that time.

Lu 23:8 - When Herod saw Jesus, he was very glad, for he had been wanting to see him for a long time, because he had heard about him and was hoping to see him perform some sign.

Lu 23:11 - Even Herod with his soldiers treated him with contempt and mocked him; then he put an elegant robe on him, and sent him back to Pilate.

Lu 23:12 - That same day Herod and Pilate became friends with each other; before this they had been enemies.

Lu 23:15 - Neither has Herod, for he sent him back to us. Indeed, he has done nothing to deserve death.
Luke's story about Jesus was written after all of these events occurred. In other words, Luke (the historian) knew about the cleverness of ruler Herod, his deception when he married his brother's wife, his brutality and gutlessness when he ordered John the Baptist beheaded, his inner desire to see Jesus put on a religious show of miracles when Jesus appeared before him during the last week of Jesus' life in Jerusalem, and his contempt for Jesus when he mocked him and put an elegant robe on him. Yes, Luke knew all about Herod and his cleverness and deception.
We can see images of Herod the Tetrarch:
http://www.bible-history.com/Herod_Antipas/antipas_cover1.jpg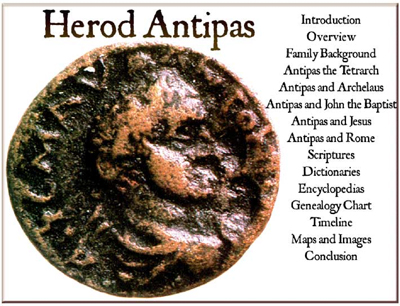 http://www.biblepicturegallery.com/Samples/la/World/nations/rulers_p/
Herod%20Antipas%20copper%20coin%20of%20Left%20-%20palm%20branch%20H.gif
We can see ancient coins from the reign of Herod Antipas: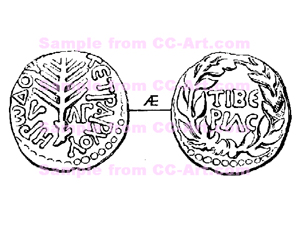 -He said to them, "Go and tell that fox for me, Jesus knew that Herod was clever like a fox. Jesus knew that he had recently ordered the beheading of John the Baptist.
-"Listen, I am casting out demons We know the numerous stories of Jesus casting out demons.
-and performing cures today and tomorrow, And we know the stories of Jesus being the master healer of many who were sick and demon possessed.
-and on the third day I finish my work. Underline, highlight. This is the second reference to "the third day" in the gospels. "The third day" is a phrase which specifically refers to the resurrection of Jesus. That is, Jesus' work was not finished when he was crucified on the cross but when he was raised from the dead. That is when Jesus finished the work that the Lord God had given him to do.
And Jesus knew this in advance. That he was to be raised from the dead by the Easter powers of the Living God.
Lu 9:22 - saying, "The Son of Man must undergo great suffering, and be rejected by the elders, chief priests, and scribes, and be killed, and on the third day be raised."

Lu 13:32 -He said to them, "Go and tell that fox for me, "Listen, I am casting out demons and performing cures today and tomorrow, and on the third day I finish my work.

Lu 18:33 - After they have flogged him, they will kill him, and on the third day he will rise again."

Lu 24:7 - that the Son of Man must be handed over to sinners, and be crucified, and on the third day rise again."

Lu 24:21 - But we had hoped that he was the one to redeem Israel. Yes, and besides all this, it is now the third day since these things took place.

Lu 24:46 - and he said to them, "Thus it is written, that the Messiah is to suffer and to rise from the dead on the third day,
-Yet today, tomorrow, and the next day I must be on my way, Yes, Jesus had a destiny and he knew his destiny on this earth was to end in Jerusalem. These words have the same feel as Luke 9:51 "when he set this face steadfastly to go to Jerusalem."
because it is impossible for a prophet to be killed outside of Jerusalem.' Jesus knew that his earthly destiny was to die in Jerusalem and not on the way, not when he was traveling to Jerusalem (Luke 10-18) but IN Jerusalem.
---
#213. Jesus' Lament Over Jerusalem
Matthew 23:37-39, Luke 13:35-35
We know by now that whenever we have exact parallels in Matthew and Luke and no similar verses in Mark, we know that this section of Scripture is from an earlier document that we call Q. Q is the earliest/oldest layer of Christian literature within the New Testament. Q is the 200 Bible verses common to Matthew and Luke but not found in Mark. Q antedates the letters of Paul and the Gospel of Mark.
Matthew has the quotation of Jesus lamenting over Jerusalem during the last week of Jesus' life in Jerusalem; whereas Luke inserts this citation from Q into Luke 13 and Jesus' journey to Jerusalem in chapters 10-18.
-Jerusalem, Jerusalem, the city that kills the prophets and stones those who are sent to it! Matthew inserts these words during the last week of Jesus' life in Jerusalem, and the words seem very well-placed in this setting. This lament of Jesus fits exceptionally well when Jesus was in Jerusalem. In Matthew, we recall Jesus' previous parables about the religious leaders killing the prophets that God sent to them.
-How often have I desired to gather your children together as a hen gathers her brood under her wings, and you were not willing! We can clearly see this image of a hen gathering her chicks under her wing, and so God was trying to gather the children of Israel together under the Lord God's protective wings. The chicks came to their mother hen but the children of Israel did not come to their Father God.
-See, your house is left to you, desolate. Jesus knew that Jerusalem would be destroyed in the future and that the houses of Jerusalem would be deserted and desolate after the destruction by the Romans.
Jerusalem becomes a symbol of a city or civilization that repeatedly rejects the prophets and messengers that the Lord God sends to that city.
-For I tell you, you will not see me again until you say, "Blessed is the one who comes in the name of the Lord."' The issue is what the word "see" means. We know that the Pharisees were as spiritually blind as they could be. Their spiritual cataracts over their eyes had blinded them to the true teachings of Jesus about the love of God and God's love for their neighbors. The Pharisees were verbally accepting of loving God but truly were blind to loving their poorer and sinful neighbors who they didn't really like. Their eyes had also been blinded to the true identity of Jesus as being the Son of God sent from the Father. It was only when eyes of the blind Pharisees were opened that they would say, "Jesus is the One who comes to us in the name of the Lord."
---
Painting And Imagination: Jesus Weeps Over Jerusalem
http://www.ipj-ppj.org/Titles%20&%20Logos/Prayer%
20Service%20-%20Jesus%20weeping.jpg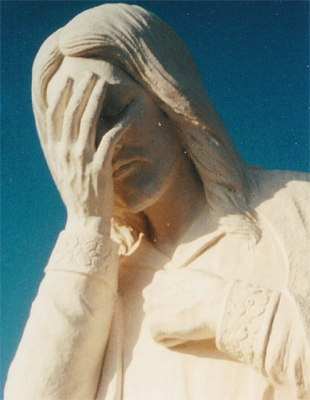 Jesus weeps over Jerusalem.
http://www.picturesofjesus4you.com/images/oh_jerusalem.jpg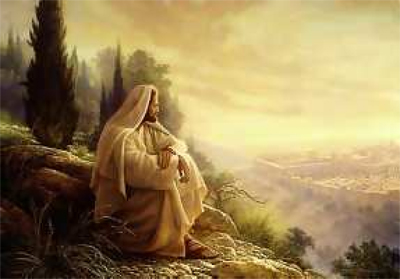 Jesus looks at Jerusalem and ponders its future pain and his own. Jerusalem becomes a symbol of a city or civilization that rejects and ultimately kills the messengers from God.