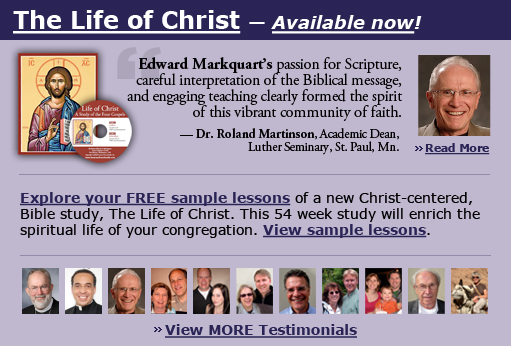 These sermons are Christ centered and Biblically based, written by a seasoned pastor of one of the largest Lutheran congregations on the West coast.

40,000-50,000 people (primarily pastors) from 150 countries visit SERMONS FROM SEATTLE every month. They read 2.5 sermons during each visit. 56% are from the USA and 42% are from England, Canada, France, South Africa, Australia, and New Zealand. 41% of the visits come through TEXTWEEK.
Please read TEXTWEEK. It is the best website available for preachers!
Some personal reflections by Pastor Edward F. Markquart
"This website and these sermons are some of the best sermons that I have, and I think you may find them useful in your ministry. From my biased point of view, I have separated the wheat from the chaff, the good from the bad, and the "chaff sermons" have been eliminated. I am offering what I believe are my better sermons.
In the early 90s, I gave preaching and worship seminars around the country, and gave copies of sermons to the pastors who attended. They quickly gobbled these sermons up and adapted them to their own personal theology and style of delivery. Again and again, I heard a refrain: "I can use this." I offer these sermons to you, to use them as you see beneficial.



To begin exploring this website, it would be beneficial to initially read "About the Sermons." Then read a sampling of the sermons from Christmas, Easter, Pentecost, Series C, etc. Then perhaps watch a video of a sermon. By saturating yourself in these sermons, you will determine if this material could be helpful to you in your preparation.
This website will be growing as more sermons, videos and courses are added.




Edward F. Markquart
Pastor, Grace Lutheran Church
Des Moines, WA 98198
(Retired, June 1, 2007, after 34 years as pastor of Grace Lutheran Church)