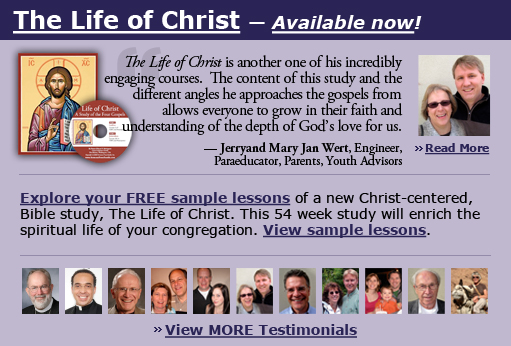 Series B
James, Caring For The Sick And Suffering Within The Congregation
---
Pentecost 17B James 5:13-20
We come to the last in our series of five sermons on the Book of James. The Book of James has been so practical, so down to earth, so "facing the problems and challenges" that we have within our congregation.
Remember that this book was written by none other than the younger brother of Jesus. His name was James. Tthe names of the boys in Jesus' family were Jesus, James, Joses, Judas and Simon. James was the second on the list, named right after Jesus. James was the second oldest son.
The Bible says that James became one of the most important leaders of the early church in Jerusalem. He was one of the three pillars of the church: James, Peter and John. Jame's name was listed first. He was the first pillar of the early church.
In the Book of James, we hear about James, who was teaching his congregation in Jerusalem how to live out what he called "the Royal Law," the Royal Law of Jesus' love. That royal law of Jesus was' five simple words, "Love your neighbor as yourself." We all memorize those words, recite those words, and mouth those words. We know the words, but it is quite another thing to live out those words in our daily lives.
What do these sacred words mean practically in our everyday lives? That's what brother James was concerned about. Practical, down to earth, Christianity. Not the high flying truths and doctrines of the Christian faith, but the down to earth, nuts and bolts, of how to live out loving your neighbor as yourself.
That is why so many Christians like the Book of James. It is filled with down to earth, practical, Christian wisdom for our day-to-day lives.
Today, we come to the end of James' letter and he talks with us about caring for the sick and the suffering. The sick and the suffering within our congregation are our neighbors. Yes, that is about as practical as you can get. Every congregation has numerous people who are sick and suffering and need the caring and compassion of their friends through their local parish.
James reminds us that the church is to be a healing community. James says that we are to care for the sick and the suffering within our congregation. James says that we are to pray for them/us. James says that we are to anoint them/us with oil. James says that we are to pray for forgiveness within people's hearts and between people so that there will be healing within hearts and between people. James says that if certain people wander away from Christ, we are to bring them back to this community of compassion and healing.
None of these are heady theological issues. None of these are complex church doctrines. These are simple and primary issues that we face every day of our lives: sickness and suffering. This is VERY basic. How do we care for the sick and suffering within our church community?
We all know that a primary purpose of every congregation is to be a place of compassion and healing for those who are sick and suffering. When people join a congregation, they intuitively expect that people will care for them and their family during times of sickness and suffering. People are very disappointed if people in the congregation do not care for them during these times.
We are not talking about care and compassion for people in our community surrounding Grace Lutheran Church as important as that may be. But in this instance, we are talking about care for people who are members of our community here on the corner of 24th and the Kent-Des Moines Road.
How do we go about care and compassion for the sick and suffering here at Grace Lutheran Church in Des Moines, Washington? How do we do this in our practical everyday lives?
We sometimes ask, "What are the primary causes suffering here within our congregation?" Most often it is what i call the five "D"s. The five words begin with the letter D: disease, divorce, disasters, disappointments, and death. Jesus and his brother James wants members of Christian congregations to care for each other during these times of suffering.
Let me recount some of the ways that we help each other. I am going to share with you list of ways we care for the sick and suffering within our parish. In no way is this a "brag list" but simply a recitation of our healing ministries here within our congregation, so we all know what resources are available and what we can expect as members of our community in our days of sickness and suffering.
I have created a power point list for you to see on the screen. If I have forgotten some examples, please write those on a worship card and give them to me after the service. Here we go…
Our healing and caring ministries within Grace Lutheran Church are:
We pray for each other, especially when we know someone is sick or suffering.

People often call family, friends, pastors, the church office when somebody is sick. When someone is sick, we often call people who are closest to us and those are often family, friends, the pastors or church office.

All of us and each of us "get the word out"when someone is sick or suffering. We "get the word out" by conversations, phone calls, emails. We "get the word" out all the time. You hear that someone is sick or suffering and you get the word out to others who may be concerned.

When we "get the word out," people respond with prayers, telephone calls, cards, emails, meals, visits to the hospital, and other little and big gestures.

Prayer lists. Many people in our congregation have prayer lists and pray for sick people by name every day.

Prayer chain. When people want, we put their names on the prayer chain, so all those on the prayer chain are praying for a sick person.

Sunday prayers of the church. When people want, we put their names in the Sunday prayers of the church, so they are prayed for specifically in our Sunday morning prayers.

Thousands of little conversations. Among the members of our congregation, there are hundreds of thousands of little conversations about life, sickness and suffering that occur on Sunday morning and other times during the week. The simple question is: "How are you? Honestly?"
The seniors. The seniors here at Grace have so many ministries a person can't keep track of them and those seniors keep track of one another.

Small groups. In our small groups, when someone is sick or suffering, we respond to their illness and take care of them.

Pastors weekly telephone people whose names are in the Sunday prayers of the church and have conversations and prayers with them.

Pastors visit the shut-ins every monthand give them prayers and Holy Communion.

Pastors/friends/family in the church have honest, specific significant healing personal conversations with individuals. Many of these conversations are absolutely essential for healing to occur.

Pastors/friends/families are often engaged in crisis events within individuals and familiesand help to deal with those catastrophes.

The 12 step group, their Sunday morning conversations and their care during the week, is a source of healing.So are the AA and Alanon groups.

We are in it for the long haul. If someone is sick and suffering for a long time, it is important that friends and pastors of this congregation keep in touch with those over long periods of time.

We take care of care-givers. When someone is sick and suffering, we know that it is important to care for the primary "care giver" who can get very tired. We consciously minister to the "care givers." Taking care of the primary "caregivers" is enormously important.

We keep "it" private, when people have suffering and sickness that they don't want other people to know about yet. People often need to keep their situation quiet for a time.

We drive people to the doctor. People in our congregation drive other members of the congregation to the doctor or hospital.

We often "network people" who are facing similar illnesses or situations such as a woman who has been treated for breast cancer will call another member who is facing a similar treatment. Or men having received treatments for prostate cancer need to be in conversation with another man who is beginning treatment for prostate cancer. The congregation networks often for people in similar situations.

The parish nurses often become involved and are available for conversation and advice. They can be called upon advice and direction. People call parish nurses and tell them of somebody who is sick.

The parish nurses take blood pressures every Sunday morning.

The parish nurses are sources of good advice and conversation.

The parish nurses have a bulletin board and columns in the monthly Messenger which informs us about medical issues for our lives. They also write columns in our monthly church newsletter.

The parish nurses lead a healing service three times a year on Saturday with personal prayers, anointing with oil, and laying on of hands as the parish nurses and pastors pray for us and our particular illness.

We have numerous nurses, doctors, dentists, social workers and other medical resources people in our congregation who are often a source of information and support.

We offer professional counseling for our members who need special healing conversations with a professional counselor.

We pay the financial bill for professional counseling for many members of our congregation who do not have the financial resources to pay for counseling.

Some people in our parish have the ministry of sending "get well" cards to members who are sick.

Some people join other singers and sing to shut-ins. A new ministry in our congregation are small groups of singers going around to sing to individual people in our congregation who are often sick and bedridden and in a nursing home.

We inform people of good nursing homes, retirement homes, group homes, etc. You may need a good home for yourself or family member and you need guidance and advice as to which one to chose.

We have funerals that are healing, sensitive and proclaim the resurrection of the deceased.

Forgiveness. We emphasize the reality and language of Jesus' forgiveness in numerous conflicts within marriages and families.

Save/healed. In the Greek language, the English words for "saved" and "healed" are the same Greek word. We all want to be healed. We all want to be saved. That is the purpose of the church: for people to find healing and salvation.

I may have left some ways that we here at Grace Lutheran Church experience God's healing among us. If you have thought of any others, please write your comments on a worship card so I can add to the list.
The point of this list is that shows you the possibilities and opportunities for you to be engaged in the healing process within this congregation. We ALL have a role as healers. EVERY ONE of us has a part to play. It is important that together, we each be a person of healing towards each other within the parish.
Write these words on your heart: "I am a healing person and Jesus works his healing in the world through me and my life of love and compassion."
A comment about prayers for the sick:
The word, "prayer" is used seven times in this story text from James 5. Christians are to be people of prayer.
Christians practice what is called "intercessory prayer" where we pray and intercede for people in all situations, including those who are sick.
Some social researchers say that the first casualty of a busy life is time for prayer. Within our busy lives, the first thing to go is prayer. I think that is true. Prayer takes time, silent time and concentration and spiritual focus and energy.
Who do you pray for each day? Do you have a prayer list? Which names are on your prayer list?
Personally, in my prayer list, I have categories of people that I pray for such as family members by name, close friends by name, work associates by name. Another category of prayer is prayers for sick people. Sometimes, the sick are members of the congregation. Sometimes, they are in the prayers of the church. Sometimes they are family members.
But I believe that it is important for practical Christianity that we have a category in our daily prayers for the sick and suffering who we are thinking about and praying for.
Right now, on the top of my prayer list, is my sister in law, Mary Markquart, my older brother's wife. Mary is fighting cancer right now. I love Mary. I have for decades. Mary is in our family prayers every day. Not so long ago, my cousin Gary lost his wife, Kate, in a battle to cancer. When Kate was going through her cancer, we prayed for her and Gary. Now, we pray for Gary.
In our own congregation, Bill and Mary Grant are at the top of my prayer list. Bill is now at home, with hospice, and his wife, Mary, is exhausted but a deeply loving spouse. I know that Bill and Mary need my prayers. Bill and Mary want my prayers. They want your daily prayers as well.
Who is on the top of your prayer list? Who are the names of the sick that are you personally praying for each and every day?
I have found that when you pray for people daily, you also telephone them and chat with them. I call Mary Markquart in Eau Claire, Wisconsin, to see how she is doing. I call Bill and Mary to see how they are doing. I have found personally that when I am praying for a particular person, I am much more likely to telephone them and chat. If someone is having trouble with their marriage and if I am praying daily for them, I am much more likely to telephone them and chat. That is called Practical Christianity. When I pray for people, I also telephone them. I think you do as well.
When the Book of James said that the "prayers of a righteous person are very effective," I believe that is what he meant. That is, I believe that if a person is genuinely righteous, such people are people of prayer. If you are a person of pray, you pray for others. If you are a person of prayer for others and remember them before God's throne, you contact them personally as well.
There are so many blessings in being part of our Christian congregation. I love the worship services and singing the hymns and praise songs. I love seeing the numerous kids on Sunday morning. I love our sanctuary, with its artistic windows and new banners and stoles. I like the people in the congregation the best. I love seeing all these wonderful folks. I love the social ministries of compassion within the congregation such as the homeless shelter and Kid Reach. The list goes on and on.
But I have to confess that I love being part of a compassionate community where people care for each other in the midst of sickness and suffering. When I personally was so sick a number of years ago, our family could not have made it through that epoch my life without your prayers and persistent acts of compassion for our family. Many of you feel the same as I do: that is, you are deeply appreciative of the prayers and conversations that you received when you were going through your deepest valley of illness and death.
The Apostle Paul said, "Carry one another's burdens and so fulfill the law of Christ."
Amen.




Back to Top