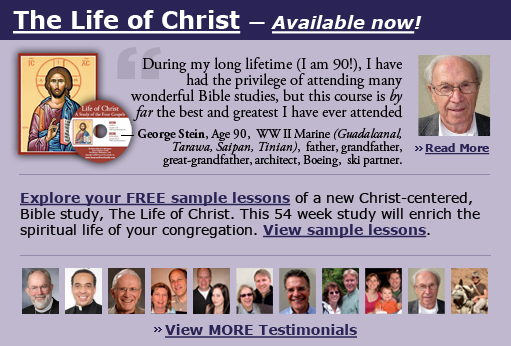 All Saints
Three Questions of Little Jennie





All Saint's Day Rev. 7:9-17
(Like all homilies given by pastors, this sermon will need to be adapted and modified. It is obvious that the names of particular people will need to be substituted with the names of people that are appropriate to your own life, congregation, and circumstances.)
One of the greatest hymns of the church is entitled, "For All The Saints Who From Their Labors Rest." This is a familiar, much loved hymn for many of us. We all enjoy singing it, because we can sing it with gusto. We love it because the organ fanfares are great. We love the words; we love the music. We love the mood of triumphant victory over death. The hymn is not a downer, not a "down in the mouth" funeral dirge but this hymn has a sense of celebration. The words and music celebrate Christ's victory over death.
I remember singing this hymn when I was at a Reformation Festival up at St. Mark's Cathedral here in Seattle. St. Mark's Cathedral has a huge pipe organ. Their bass pipes are at least two feet in diameter; they are absolutely enormous. On that huge and powerful organ, the organist can overwhelm everyone if the organist chooses to do so. Along with the mighty organ was a brass choir. There were at least thirty trumpets, trombones and basses. You could feel the whole organ thunder and see the cathedral windows shake, rattle and roll, as the congregation sang in full voice and the brass choir blared. It was an absolute delight to sing that great hymn with that great organ with those thousand voices along with the brass choir..
The words for this grand hymn were composed by a man by the name of William How. William How was an insignificant and unknown bishop in the slums of London in the 1880s, and he worked hard to combat the slum conditions of that Dickensesque era of history. And so out of the slums and the poverty of London, he wrote the words of this great hymn and fifty other hymns.
The music for this grand hymn was written by a young British composer by the name of Ralph van Williams. He was one of the greatest English composers at the turn of the century. Our choir sings many anthems that were composed by Ralph van Williams. Van Williams was the editor of a new English hymnbook in 1906, and this hymn was included in that hymnbook.
When you combine great words with great music, that makes for the possibility of a great hymn. And now, on each All Saints Day, we have the privilege of joining with all the saints from all time and history and singing this great and grand hymn, one of the best, one of the most singable hymns we know and love.
This victorious hymn introduces us to the theme of All Saints Day. Today is All Saints Day in the life of the church. It is the Memorial Day. It is Remembrance Day.
All Saints Day is a day that we remember family members who have died. We remember with thanksgiving and victory our grandmas and grandpas, our mothers and fathers, our sons and daughters, our aunts and uncles, our friends and neighbors, our loved ones who have preceded us in death. On this day, I always especially remember my mother whose birthday was on October 30. She would have been 93 years old if she would have lived. The point is, on this day, we remember loved ones who have died from our family.
Today also, we remember with deep thanksgiving the lives of our congregational family who have passed away this year. During the prayers of the church today, we will recite the names of our congregational family who have died this past year and we will remember them in prayer. Please turn to your bulletin insert and focus on the names of people of our parish family who died this past year. Dorothy Chester who was married to Roger for 61 years and always sat in the front pew, left side, at the 7:30 AM service. She and Roger were inseparable. Dale Isaacson who died much too young, leaving his widow Eileen and his daughter, Serena, who is in our confirmation class. Bea Bernhardsen, wife of Harold and mother of Karin Krippaehne and her three granddaughters of our parish. Opal Dye who was 98 years old, our oldest member, who was a vigorous conversationalist and intellect, yet wanted to die and be with her husband. Donna Love, the nurse and water color painter, who died much too young, loved early by her three children. John Cawsey also died much too young. John was a member of our church council and members of our church council laid hands on him and prayed for him here at this altar not so long ago. William Sandwith could not speak because of a debilitating disease and a tracheotomy. William saw his daughter in law baptized and said he wanted to be baptized. Which he was. A short time later, he died suddenly and unexpectedly. It was then I discovered that he was a famous scientist and founder of a large corporation whose members came to the funeral. William Benton was the husband of Celia for 65 years and also the father of Carol Ervin, our church secretary. Willard and Celia moved up here from the South in order to die here with great family support of Carol's family. Zella Patton was 93 years old, a great and devout saint who entertained us royally at the last Voices of Christmas. Don Agrellas, husband of Karen and father of three children, was a loyal member here at Grace and always was at the 7:30 service.
Today, we also remember that we are nuclear families and a congregational family who take care of our family members as they die. Within our families, the living inevitably care for the dying family members. Many of our families spend a great deal of time and emotional energy caring for their dying loved one. We don't buy into our society's values that avoids talking about death, that avoids planning for death, that treats death as a cultural taboo that is to be masqueraded. Rather, in the spirit and hope of the resurrection, we talk honestly and directly about our death. We know that death is as much a part of life as birth, that we all have been born and that we are all going to die. And so we help each other as we prepare for death. For example, the other day, I was visiting Virginia Tervo from our parish and she is dying of cancer. She knows that. So does her family, her husband, her friends. We all do. Virginia knows that she is dying, and the days get pretty long and monotonous. So people come by to see Virginia, to chat for a few minutes, just to break up the monotony of the day. This past week, people from our parish who did not know Virginia showed up just to chat. Another woman came by with a dog which Virginia invited up onto her bed so she could pet the little animal. We, as nuclear families and as a congregational family, take care of each other and the dying family member to die with dignity, love and everlasting hope. All Saints Day helps us to remember to take care of those dying in our midst. Death is part of normal life.
Today's sermon is in the form of three questions. Children have asked me these questions at different times and in different circumstances. I would like to join these questions together today into three consecutive questions.
A little eight year old girl asked me after her father died. First, "Where is my Daddy now?" Second, "Will I see/know my Daddy again in heaven?" Third, "What is heaven like?"
Today, I would like to address these three questions which have been asked by children during the decades of my being a pastor. Adults have also asked these same questions. There is a child that lives in all of us who are older, and we "older people" still ask the basic, childlike questions.
The first question a child asked me was, "Where is my Daddy?" When a child asks me the question, "Where is my Daddy?" I answer, "With Jesus. Your Daddy is with Jesus." I then ask the child where she or he thinks her daddy is, and the child usually says nothing. Since a child respects the truth of the Bible, I tell them a Bible story. I say, "Do you remember the story when Jesus was being killed on the cross on Good Friday? There were two robbers with Jesus, one on his left and the other robber on his right. The one robber on the left shouted at Jesus in an angry tone of voice, 'Jesus, if you are the Son of God, come down from the cross and prove to us that you are divine.' But the other robber on the right, simply said to Jesus, 'Remember me when you come into paradise.' And Jesus said to that robber on the right, "Today, you will be with me in paradise." Jenny, do you remember that story? You do? Good. The key to the story is the phrase, "Today, you will be with me in paradise."
That is what Jesus said to your Daddy. "Today you will be with me in paradise." Not tomorrow. Not when the end of the world comes. Not when the devil is bound and the rapture has come and before the millennium. No. Jesus was simple and direct. Eight clear words that make a promise, "Today you will be with me in paradise." God made that promise to your Dad: Today you will be with me in paradise. No visions. No speculations. No theological clarifications. No psychoanalyst's tricks such as "What do you think?" Rather, Jesus' answer was clear and crisp: today you will be with me in paradise. That is where your Dad is. In paradise, with Jesus. That is what the Bible says.
In the book of Romans in the Bible, God promised the same thing. "Nothing can separate us from the love of God. Neither height nor depth. Nor principalities nor powers. Nor things present nor things to come. Nothing in this whole wide world can separate us from the love of God which is found in Christ Jesus our Lord." God says. The Bible says. Nothing can separate your Daddy, your Mommy, from the love of Jesus Christ.
And even though your Daddy is with Jesus, it is normal to feel sad that your Daddy is no longer physically with you. It takes a long time for God to hear your heart of your sadness, but someday in the future, God will heal your heart of your sadness, and there will come a time when you even remember your Daddy with happiness and great joy and goodness. Trust me. That is what will happen to your heart. Your heart will be slowly healed of its sadness.
Jennie then asked a second question: "Will I see my Daddy again?" I said, "Yes. You want to see your Daddy again, and I am sure you will. There is nothing in the Bible that says you won't, that is for sure."
Let me explain a little further, for the benefit of the adults here. I believe that when we die, we human beings will not lose our individuality, that our individuality and uniqueness as a child of God, a son or daughter, will be retained in heaven. The Christian religion is about individual personhood, and I believe that in heaven, God will retain this type of uniqueness of the person.
Our Christian religion is in contrast to some other religions of the world. In some of these other religions of the world, people are like a great variety of streams and rivers that flow into the ocean. Each individual life is like a river coming down the Cascade Mountains and as each individual river reaches the Pacific Ocean, the river loses their individuality into this great infinite ocean. Many religions of the world teach that…that your future is to become one drop in the big ocean called God. Or some secular people today believe that we human beings will return to dust and that our eternal destiny is to return to the earth. That is all we are: another speck of dust on this earth and in this universe and in this galactic system.
Such thoughts are in stark contrast to Jesus' understanding of heaven and God. The teaching of the Bible is not that we are going to become part of some cosmic ocean or a speck of dust in an infinite universe, but that we are going to our Father's house. Jesus was a carpenter and his father was a carpenter and Jesus taught that God was his personal father. Jesus said, "In my father's house are many rooms. If this were not so, I would not have told you. I am going to prepare a place for you in my Father's house." Jesus was a carpenter and thought in terms of a carpenter. I am going to my father's home, to heaven, in order to build a room for you. Jesus did not say that in the future that you and I would become drip in the ocean or specks of dust in the universe, but Jesus and the Bible promised us that we are going to be a child, a son, a daughter, in "my Father's house." The whole thought pattern of the Christian faith is that of the uniqueness, the value of each son and daughter who is to live in God's home. If God is my father, then I am God's son or daughter. I am intended to be a son, intended to be a daughter, in the house of my Father for all eternity.
And so, when an eight year old girl asks me, "Will I see my Daddy again?" I say. Yes, you are a child of God, and so is your Dad a child of God. I know that you will be children of God together in heaven. But I don't think you will spend a whole lot of time looking at each other. Our focus, our concentration, our spirits will be absorbed into looking at God and singing praises to him. Sometimes, I think it will be like singing in a choir: I am aware of others around me, but when the music is grand and I am into it, I only look at the conductor and my voice and heart are given to him.
Jennie, the eight-year old child, then asks a third question: "Well then, what is heaven like?" And I ask, "What do you think? What are some of your ideas?" We chat for a while, not a long while, and then I add something to the effect:
"It's going to be unbelievable beautiful. It will be so beautiful, my child, that you and I cannot imagine how perfectly wonderful it will be. The Bible says that no human mind can conceive or human eye can envision what good things the Lord God has prepared for us. Our minds are big enough to think such thoughts about heaven and so we create visions of what we think heaven make be like. The prophet John, in the book of Revelation, had a vision of heaven. You can only see heaven in visions. He said that heaven will be like a throne, and on that throne, God will be seated. God in heaven does not look like Father Time nor does God have long, white hair. Rather, there is an invisible presence seated on the throne and that invisible presence is God. There will be a rainbow around the throne of God, and this rainbow is composed of every color and precious jewel in the universe: jasper, carnelian, emerald, ruby. Reds, blues, greens, golds. There is also this translucent color, reflecting off of each stone, flowing and pulsating with lovely colors of the rainbow.
And around that throne are twenty-four elders, and to the right of the throne is the Lamb of God, Jesus Christ, and around the throne are millions of martyrs and around the martyrs are millions and billions of angels. There will be billions and billions and billions of people there. In Jesus generation and in every generation since, there are always those people who think that very few people will be in heaven. Usually, the Pharisees in every generation think that they and their few chosen friends and associates will be in heaven. But the Book of Revelation sees a vision that will be crammed with as large as number as can be conceived.
And everyone will be singing, "Worthy is Christ, the lamb who was slain, whose blood set us free to be people of God. Power and riches and wisdom and might and honor and glory and blessing are his. This is the feast of victory to our God."
There will be no more war. No more death. No more cancer. No more heart attacks. No more starvation. No more wars. No more nights. No more darkness. There will only be peace and light.
It will be beautiful, fantastically beautiful, and we cannot comprehend it.
The little girl said to me, "If that is true, why doesn't' everyone want to go there? Why doesn't everyone believe in it? Why are people so afraid to die?"
I said to her, "People all went to go to heaven, but not today. People who live in nice homes and apartments today do not want to move, don't want to change. Most of us are the same: we don't want change. Also, people don't quite trust God's promises to give us eternal life. We are not quite sure that God can be that good? You see, sometimes when you see something which is unbelievably good, you are not sure if it is for real. If you see a brand new bike for $10, you think it must be a mistake. If you see a big house for $10,000, you think it must be a mistake; that it is a come on, a false advertising, a con job. And sometimes, the good news about Jesus and the good news about eternal life is so good and so overwhelming a gift to us, some people say, "I just can't trust that. It may not be true. It is a con job. False advertising."
The little girl said, "I believe it. I believe it is true." I said to her, "Of course you do, because you are a little child. Jesus said, "If you believe like a little child, you shall see the kingdom of God. If you believe like a little child, you shall see the grand miracles of God."
In conclusion, I would like to share one more illustration. There is a story from World War II. There was a young man from Seattle and he had fallen in love with the neighbor girl down the street. How they loved each other. He was twenty-one and she was nineteen and they were making plans for marriage. Suddenly, Pearl Harbor was bombed. The young man enlisted and the marriage would have to wait. The young man was assigned to a military base down in San Diego. They agreed, these two young lovers did, that at each night at 10:30, whenever possible, they would look out at the Big Dipper. He would look out at the stars and she would look out at the stars, at the very same moment, and they would think of each other for fifteen minutes. The two of them did that faithfully, each night at 10:30, the young man in San Diego, the young woman in Seattle. They knew that they were in communion with each other; they felt and believed in each other's presence. They sensed each other and shared the moment.
And today we have a similar vision. Today, we feel that all of us who are here on this side of the veil of death, we are to look up at the star of Jesus. And as we are looking up at the star of Jesus, there are people on the other side of the veil of death and they too are looking up at the star of Jesus. Our loved ones who have passed away: our grandpas and grandmas, our mothers and fathers, our sons and daughters, our brothers and sisters, our friends and love ones, all from the other side of the veil. For me, it is my deceased mother on that side of the veil and me on this side of the veil of death. We cannot see each other; we cannot see them and they cannot see us, but we both can see the star of Christ. All of us, on both sides of the curtain of existence, on both sides of the veil of life and death, we all look up at that star Jesus and we know we are in communion with each other. We are all looking at that star of Christ and singing "For all the saints who from their labors rest" with organ with the biggest pipes you ever saw, with trumpets and cornets and a brass choir that rattle the windows of heaven and shake the floors of heaven, when the voices of billions of Gods' people from every time and every place and every generation and every nation, joining in an overwhelmingly mighty explosion of praise.
I asked her, "Jennie, do you believe that?" She answered, "O yes, I believe." I said, "Of course you do. You have the eyes and heart of a child." That is the vision of All Saints Day for those who have the eyes of a child. Amen.



Back to Top